Raka Ibrahim (The Jakarta Post)

Denpasar   ●  
Thu, March 24, 2022

2022-03-24
14:00
0
0c06e8ca436d6e21bba3a7085649f609
1
Food
food,world-cuisine,international-food,Nigerian-food,African-food,Filipino-cuisine,Japanese-food,Palestinian-food,Malian-food
Free

The nation's capital has a stunningly diverse selection of international cuisines to dine on. Here are five to start your global food tour – without leaving the country!
Aside from offering regional delights to sample from anywhere in the archipelago, Greater Jakarta is also a good place to start your global culinary journey. Just look a little closer and you'll find a bustling international culinary scene in the background. From West African comfort food to Palestinian sensation, we take a look at some of the best world cuisines the capital city has to offer.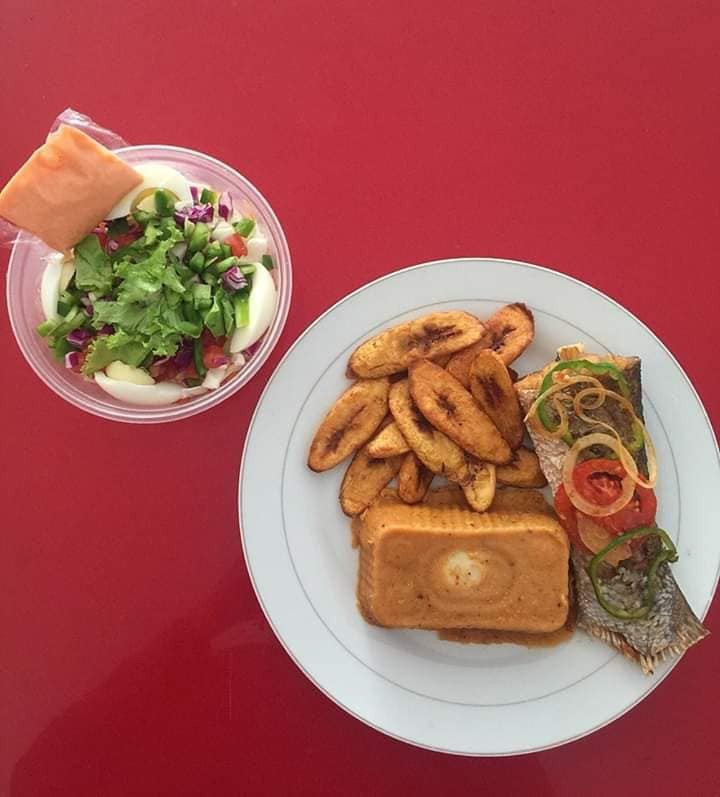 Hearty alternative: Don't feel like having meat? Then go for the fried fish with salad and 'moin moin, a Nigerian steamed bean pudding, at African Food Center Nwanyi Nnewi in West Jakarta. (Facebook/African Food Center Official Page) (Facebook/African Food Center Official Page)
Nigerian: African Food Center Nwanyi Nnewi
Jl. K.S. Tubun No. 66, Slipi, Palmerah, West Jakarta
Don't expect Nigerian food to pull any punches. Its litany of stews and soups are spicy, thick and uncompromisingly savory. West African meat dishes also tend to be on the tougher side, so you can forget encountering meltingly tender, fall-off-the bone proteins. But persevere, and you'll discover one of the hidden gems of world cuisine.
The African Food Center Nwanyi Nnewi blends imported West African ingredients such as bitter leaf and smoked fish with local produce, resulting in an intoxicating fusion of flavors. All the dishes served at this restaurant taste like they're from somewhere you've (likely) never been to, yet also taste familiar.
It's also a hub for weary travelers and members of the West African diaspora in Indonesia to gather, talk and trade stories from home. A must-visit for any culinary traveler.
What to Order: The restaurant offers the usual staples of West African comfort food, but beginners should try egusi, a hearty, savory, slightly sweet meat stew thickened with ground sunflower seeds. Like any self-respecting West African establishment, they also serve up a mean jollof. Wash it down with a bottle of zobo (traditional hibiscus tea).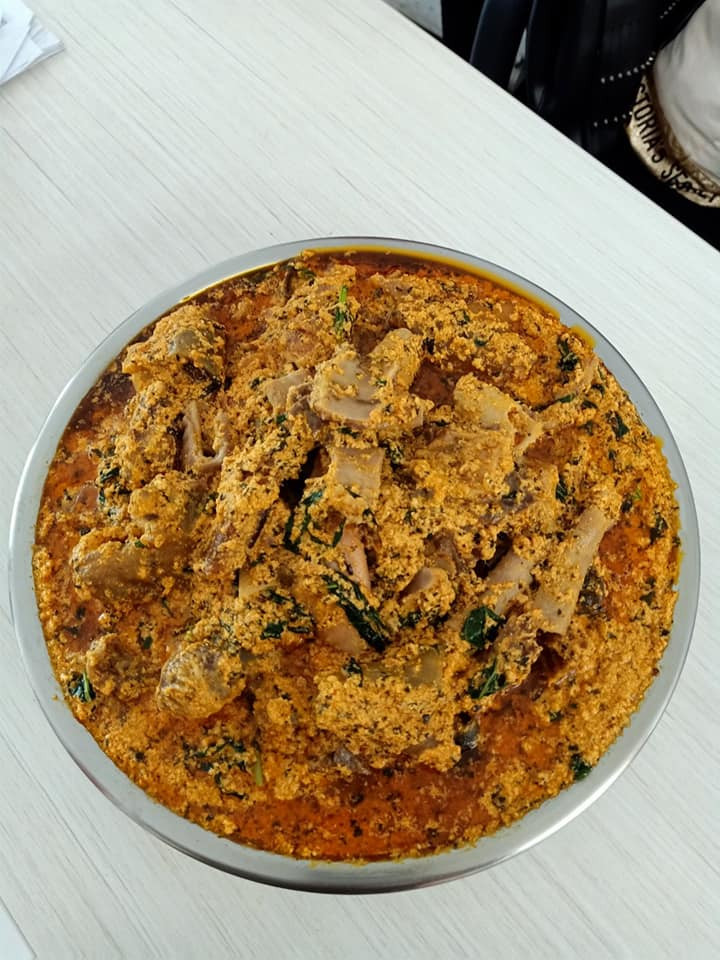 West African adventure: 'Egusi' is a Nigerian classic, a hearty, savory meat stew thickened with ground sunflower seeds. It's a welcome change of pace with a kick, served at African Food Center Nwanyi Nnewi. (Facebook/African Food Center Nwanyi Nnewi) (Facebook/African Food Center Official Page)
Filipino: SILOG+
Ruko Bolsena Blok B19, Jl. Gading Serpong Boulevard, Serpong, South Tangerang, Banten
While the capital's awash with good Thai and Vietnamese selections, our immediate northern neighbor is still woefully underrepresented in the local food scene. Shame on us! Filipino cuisine seems to have perfected what most culinary cultures have figured out: fatty meats go fantastically well with acid.
SILOG+ of course deals in its namesake, a savory garlic rice concoction that is the sidekick to its pork-heavy menu. Cooked fresh and with love by a team of Philippine and Indonesian chefs, the restaurant titillates your taste buds and leaves you wondering, "Where have I been all this time?"
What to Order: No question about it, opt for a heaping plate of porchetta. A spin on the classic Italian roast pork belly mixed with traditional Filipino lechon, it's a fat bomb with crispy crackling and a good hit of spices. The house adobo, stewed pork in soy sauce and vinegar, is excellent, naturally. If you're lucky, grab their limited edition longanisa, Filipino pork sausage.
What to wash it all down with? Why, a cold bottle of beer, of course.
Japanese: Kaihomaru
Jl. Melawai 6 No. 23, Melawai, Kebayoran Baru, South Jakarta
Nestled in the heart of South Jakarta, Little Tokyo is perhaps Jakarta's worst kept secret. Awash with neon-lit backstreets and shady karaoke bars, it looks like a Gaspar Noé fever dream come to life. But tucked in between the derelict buildings and dive bars are high-end, authentic Japanese restaurants.
Once South Jakarta's hidden gem frequented only by Japanese expats who populate the city's ad agencies and commercial districts, it slowly gained popularity among a younger crowd enticed by the high-quality food served in a challenging, unique environment.
Kaihomaru remains top tier among these restaurants. Famous for its sashimi and stately ambience, it's a great place for a midweek date night or a fancy sushi dinner.
What to Order: Ask what's the freshest of the day and have it served as sashimi. It is highly advisable to pair that with a side of good old-fashioned sake.
Palestinian: Emado's Shawarma
Jl. Kemang Selatan VIII No. 66, Bangka, Mampang Prapatan, South Jakarta
Perhaps this is the most mainstream of the bunch, but don't let Emado's bright lights fool you. Its pride and joy, Palestinian roast chicken, is a glorious serving of juicy poultry encased in a crust of spice rub. Served with garlic mayonnaise, a take on the feta-driven Greek salad and two flatbread rounds, it's the perfect midweek lunch.
There's also an added bonus: Emado's is everywhere now, expanding and opening new branches with feverish gusto, so there's a good chance you can find an outlet near you. And another thing: It's insanely affordable.
What to Order: Roast chicken, of course. Heaps upon heaps of chicken. Some prefer it on Middle Eastern-inspired mandi rice, others with a side of simple French fries, but why mess with perfection? Take the flatbread, tear off a hunk of chicken, top it off with mountains of salad and aioli and enjoy!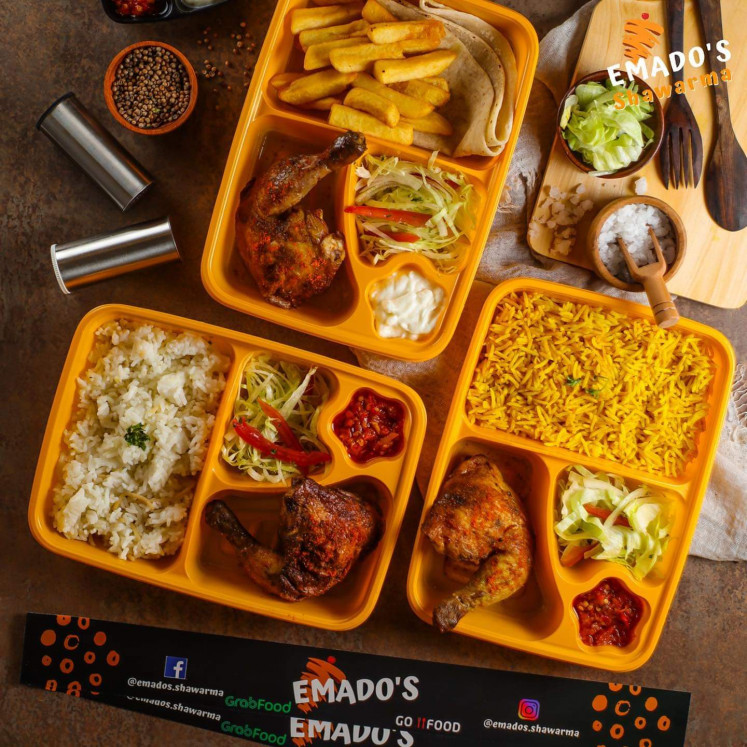 Glorious roast: Affordable and juicy with a spice rub crust, the Palestinian roast chicken at Emado's Shawarma has recently taken the capital by storm. (Facebook/Emado's Shawarma) (Facebook/Emado's Shawarma Official Page)
Malian: Sate Domba Afrika Hj. Ismail
Jl. Aipda K.S. Tubun No. 6, South Bambu, Palmerah, West Jakarta
Petamburan, K.S. Tubun and the surrounding districts are an interesting area to find yourself in. A mixture of tight-knit slums, intimidatingly crowded roads and dusty warehouses, it doesn't immediately strike you as a hotbed of haute cuisine. But look a bit beyond the surface and you'll find an interesting mix of cultures that necessitate the existence of a diverse culinary scene.
Though these districts are more famous for their Arab-Indonesian diaspora, it's also home to a community of West African expats who mostly deal in trade and imports to the continent. Among them is a Malian man called Ismail Coulibaly blessed with a skill: The man knows how to grill lamb.
Tender, juicy and visceral, it's served with a spicy mustard-based sauce, fried plantains and sliced sweet onions for a unique culinary experience in a unique setting.
What to Order: You can't go wrong with a plate of sate domba (lamb satay) with all the fixings. The heartiest of Indonesians among us will insist on eating it with rice, and yes, that's on the menu. But go the Malian way and have it with plantains. The sweetness pairs nicely with the juicy, slightly fatty roasted meat.